Zombies. They've been likened to dinosaurs in that they seem to have been around forever yet no one's ever really seen one. The 
strange notion that a dead man can come back to life borders on horrific to gut-wrenching. The idea of a zombie can bring out a range of emotions, from outright fear at the prospect of death, sadness as you watch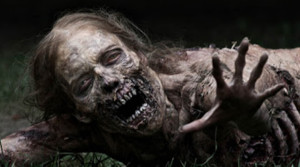 those you love perish as they themselves become zombies, and even empathy as these brainless beings who were once like you and me are reduced to a skin bag of bones hungry solely for flesh (preferably human, of course). Yet, as horrified fans watch, read, and listen to tales of resurrected bodies come back to life, they can't help but to reach out for more.
"Zombies are eternal. They're like dinosaurs."- Roberto Aguirre-Sacasa

Where did this all come from and how did zombies become such a modern horror sensation?
Well, it's a bit complicated so here's a condensed version of the answer. Zombies have been tied to many cultures and religions, with the first ever mention of a "zombie" being in 1819 by poet Robert Southey through a history of Brazil. The idea of the "reanimation of a human corpse" is tied to South and Latin America, Haiti and the Caribbean, and West Africa among other regions of the world. The zombie became a subject in literary form in such early works as W.B. Seabrook's The Magic Island published in 1929. Time Magazine wrote that Seabrook's work "introduced 'zombi' into U.S. speech." Since then, zombies in fiction have become a staple of the horror genre, stemming from Mary Shelley's Frankenstein to Wade Davis' The Serpent and the Rainbow. Due to the unrelenting and ever-growing popularity of zombies in literature, it only made sense for the folklore to move into film and television.

George A. Romero's film Night of the Living Dead (1968), although about zombies, never actually used the word "zombie". The film's devout fans only began using the term outside of the movie, generating mass interest in the subject. Night of the Living Dead
was a box office hit, grossing $12 million in the U.S. ($18 million internationally) based on a budget of $114,000. Although the film, for its time, was widely criticized for its use of gore, it has since been stated as "culturally, historically, or aesthetically significant" by Congress' National Film Registry. Though it was not the first movie to ever have been produced starring the theme of zombies, it was ultimately a breakthrough as it was the "first film to depict zombies as reanimated cannibalistic cadavers." From 1968 to 2016, an estimated 410 zombie feature films have been released both in the U.S. and abroad.
Zombies have infiltrated pretty much every aspect of the entertainment industry. With video games, film, literature, television and even music, it would be easy to assume that by the year 2016, audiences have had enough of decomposing corpses – right? Not in the slightest. In 2013 movie-goers raced to see World War Z (2013), an adaptation of the popular novel by Max Brooks. It earned a whopping $540 million at the box office, although critics gave the film a 7/10 on IMDb and famed film critic Roger Ebert a 2/4. Almost all of the most successful zombie films according to boxofficemojo.com have been released in the last twenty years. And now that AMC's hugely popular The Walking Dead is in between seasons fans of the show are left hungry, anxiously waiting for more even after six seasons. The sub-genre has grown so powerful that it has climbed over the walls of horror and into other genres such as romance and comedy, including Tyler Perry's Boo! A Madea Halloween set to release this October.
"Zombies let us explore notions of the apocalypse – no water, food, medical care, the government imploding – while letting us sleep at night." – Max Brooks
As frightening as our fellow man coming back from the grave to gorge on our bodies may be, we can't help but admit that we simply cannot get enough. Zombies, it seems for the time-being, won't be going back to the grave and away from our television screens anytime soon. -C.Persaud
Sources:
Zombie – Wikipedia, the free encyclopedia. (n.d.). Retrieved May 11, 2016, from https://en.wikipedia.org/wiki/Zombie#Modern_fiction
IMDb: Top 20 Highest Grossing Zombie Movies – a list by enrique524. (n.d.). Retrieved from http://www.imdb.com/list/ls051265897/
Zombie Movies at the Box Office – Box Office Mojo. (n.d.). Retrieved from http://www.boxofficemojo.com/genres/chart/?id=zombie.htm
World War Z (film) – Wikipedia, the free encyclopedia. (n.d.). Retrieved May 11, 2016, from https://en.wikipedia.org/wiki/World_War_Z_(film)
The Walking Dead (TV series) – Wikipedia, the free encyclopedia. (n.d.). Retrieved May 11, 2016, from https://en.wikipedia.org/wiki/The_Walking_Dead_(TV_series)
Night of the Living Dead – Wikipedia, the free encyclopedia. (n.d.). Retrieved May 11, 2016, from https://en.wikipedia.org/wiki/Night_of_the_Living_Dead
William Seabrook – Wikipedia, the free encyclopedia. (n.d.). Retrieved May 11, 2016, from https://en.wikipedia.org/wiki/William_Seabrook